The peace and tranquility of a holiday, at home.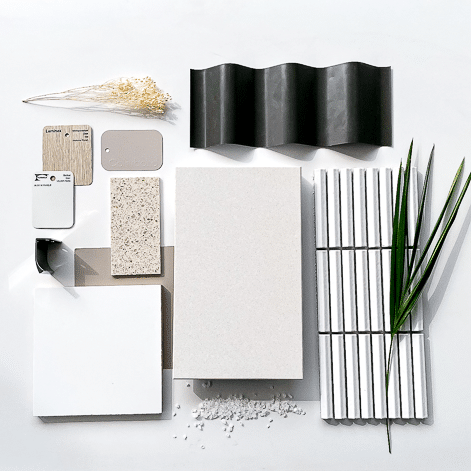 Designed in a travel-less time, The Quartz at Jindalee was made to bring resort-style living home. Many of us had experienced confinement in our own homes in 2020. Not being able to leave the house, let alone travel, brought forward the importance of having a safe space like a resort-style dream home that fostered well-being.
From city-dwellers to ruralites, many have sought a new kind of accommodation. More than a home but less than a hotel, resort-style living is where style, luxury and comfort meet.
The Quartz Kitchen
Bright, light and airy spaces bring positive energy and a calm feel. Neutral and light tones are vital to achieving a resort-style living space.
In the kitchen, the drawers and door fronts feature Baikal from Formica. Whitewashed Oak with vertical grain on the overhead cupboards from Laminex draws the eyes upwards, giving the appearance of more height.
For the splash-back, long and vertical Glazed Kit Kat Mosaic Tiles were used to create visual interest. The simplicity of a polished white tile and its shape also aided in the appearance of more height.
Only a 4-minute drive away from the beach, it was only natural for this home to have a resort look and feel, which made Essastone Sandstone Cape the clear choice.
Handles can serve as a great statement piece in any home. But if you're looking for more of an airy feel, bulky or dark handles against neutral cupboards can make it look busier. Furnipart Edge Straight handles will give your dream home a modern and seamless look, without the cost of handle-less cupboards. 200 x 1200mm Eco Chic Almond floor tiles laid vertically from the entry lead the eyes to the open-plan living and make the home seem longer and more spacious.
The Quartz Ensuite
Enter into a time of relaxation at The Quartz ensuite.
This ensuite mimics the luxury of hotel-style homes with a timber wall feature, freestanding bath and a double-sized shower recess with a nib wall.
Similar to the other areas of the home, the ensuite also has Glazed White Kit Kat Mosaic Tiles and Laminex Natural in Whitewashed Oak for the drawer fronts. In the shower, 300mm x 600mm White Matt Rectified Wall Tiles were picked to give a more spacious feel. 300mm x 600mm Limestone Avorio Rectified Porcelain Tiles serve as the base, creating a natural look.


The Quartz Elevation
With neutral tones and a feature panel wall, the front elevation sets the tone for the rest of the home. We highlight elements of nature with Cimental's Territory Woodlandsnatural cladding in Limed. Inspired by Japanese values of simplicity, nature and quality, this cladding is all about drawing back from the noise of the world. To pair, a base of Solver Astor White and Colorbond Dune to contrast. For the roof and gutters, our interior designer went with one of the most popular picks – Colorbond Woodland Grey.
On the driveway, crossover, portico and alfresco is Holcim's decorative concrete in Acacia to complete the home. Known for its variation in colour and durability, this mix of Geostone turns the driveway into a feature that adds to the value and luxurious aesthetic of the home.
Visit The Quartz at 7 Spinosa Chase, Jindalee*
*This post was published on 2 June 2021. Please note that this display may be closed due to unforeseen circumstances. To ensure this is open before your visit, please call our Metro office at Osborne Park at 9208 1111.