Made to host families on their American summer holiday, Hamptons style homes are all about charm, luxury and relaxation. Originating from the East Coast of Long Island, this style has made its way around the world and into Australian homes in the recent years.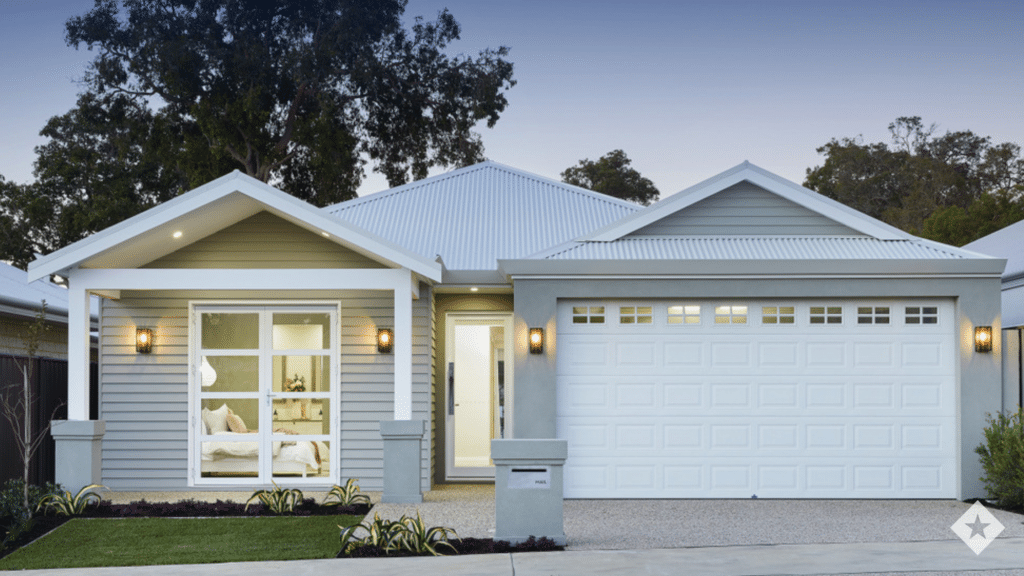 Roof Style
Thinking of a Hamptons-style home immediately brings images of upmarket hotels and holiday houses. When deconstructed, this style is all about neutral colours, traditional architecture, soft lighting and layered textiles.
The Hamptons style home is all about having street presence and that all starts with a distinct roof. From extravagantly high ceilings, balconies to ornamental trimmings – the architectural detail that goes into a Hamptons-style exterior is what makes it so iconic. The one thing that is a staple to any Hamptons style home is the gable roof.
Our Hamptons style display, The Fairbanks, features Surfmist as the fascia colour from Colorbond. This cream colour takes inspiration from the mist from the sea and surf, pure white sands and the billowing sails of yachts.

Weatherboard Cladding
The mark of a Hamptons style home is its cladded exterior. American homes would traditionally use timber with horizontal cladding or shingles. But with Australia's harsh climate, timber often requires regular maintenance and just isn't a sustainable option. Luckily, you can easily mimic the look of timber cladding with a cement composite weatherboard.
For The Fairbanks' exterior, our interior designer used Scyon Linea weatherboard from James Hardie. The deep shadow weatherboard gives off a coastal vibe and is much more compatible with Australian temperatures. It's also resistant to shrinking, swelling, cracking and holds paint longer than wood.
As for colour, our interior designer went with Tuz Lake from Solver Paints (a light cool grey) to complete the look. Neutrals like light grey or blue really exemplify classic Hamptons. For a more urban contemporary look, dark charcoal is the way to go.

Interior
The Fairbanks sports 34c high ceilings with 37c recessed ceiling and 28c feature bulkhead over the kitchen. A recessed ceiling is created when the central portion of the ceiling is higher than the surrounding area. Drawing the eyes upwards and emphasising on the height of the room, creating a luxurious feel. Feature cornices and skirting boards can also be found throughout the home, complementing the up-market look of a Hamptons home.

Floor/ Tile Selections
Timber longboards can add a touch of warmth and luxury on your main floor. Walking through the Fairbanks, you will find engineered timber floorboards from Trevors Carpets Hamptons range in the colour Delmar. The wide and long board design creates a high-end look at an affordable price.
On the floors of the Fairbanks' ensuite, bathroom, powder and laundry are Nikto Calcite Rectified Porcelain Tiles. These stone-looking tiles carry a natural appearance and evoke a coastal aesthetic. On the walls are White Gloss Non-rectified Ceramic Tiles from European Ceramics, reflecting natural light and creating brightness in any room.
To add an edgy touch to the kitchen, our interior designer used Antique Grey Non-rectified Ceramic Tiles from Imported Ceramics as a feature splashback. This adds contrast to the kitchen, giving it a focal point.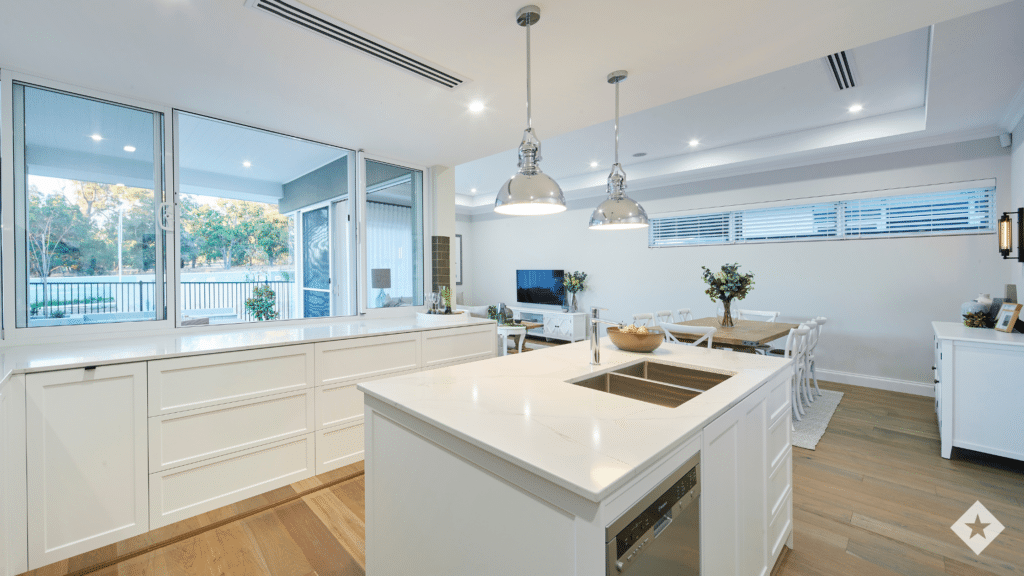 Kitchen
A Hamptons style kitchen is all about fostering connection. The breakfast bar and a sliding servery window from the kitchen to alfresco allows for hosts to still communicate with their guests when preparing food. It also creates a casual and relaxed atmosphere, perfect for gatherings.
Nothing speaks high-end Hamptons style like a marble benchtop. Essastone's Unique Calcatta stone top captures the authentic look of classic Calcatta marble with the hardwearing performance of engineered stone. Engineered stone is also much more affordable and robust, and this particular one captures the beautiful veining detail of Calcatta.
Ample space for storage and food prep is essential to a kitchen that's designed to entertain. Make sure to build in lots of overheads cupboards and drawers to create ample room for storage in your kitchen. Our Fairbanks' kitchen has feature overhead cupboards, microwave recess, double pullout bins, three banks of large drawers and a bank of small drawers.

Paint Selections
 The interior of the Hamptons style home is cosy, calm and peaceful. Muted greys, white, soft blues and greens are some examples of neutral colours that can help to create a relaxed atmosphere.

Final Touches
Décor like rattan baskets, corals and seashells really bring the home closer to its coastal origins. Elements like this give the home a fresh and effortless look.
Visit The Fairbanks display at Lakelands Estate on Mon & Wed, 2pm – 5pm or on the weekends, 12pm – 5pm to have a look at Hamptons-style living.*
Featuring Jodi Balhorn, Interior Designer from JB Interiors.
*This blog post was published on 20 May 2021. Please note that the display home may have closed since or may be closed due to unforeseen causes. To confirm that this display is open before your visit, please call our office at (08) 9208 1111.